Passive income has been a topic I have been obsessed with for a couple of years.
The concept of earning an income even when you aren't working just blew my mind at first.
But what exactly is passive income? Is it truly 100% passive? Are some sources of passive income better than others?
Are you looking for a new way to make money?
Maybe you are tired of your job and want to replace it, or perhaps you are looking to make an extra income.
Whether or not you have heard of passive income, you have come to the right place to get started and learn more about it.
Welcome to Passive Income Newbie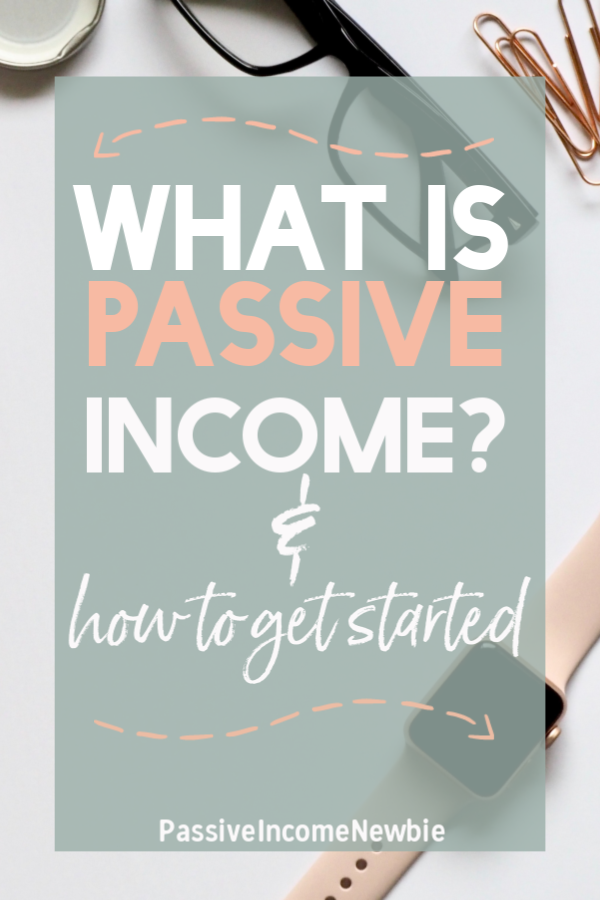 Here, you will learn more about how you can be successful at making money online.
This is the perfect place for beginners, and while there is a lot to learn, no one said you have to do it all in one day.
Whether you are thinking about blogging, affiliate marketing or writing an eBook, here is what you need to know about passive income.
What is Passive Income?
Passive income is money earned that requires little to no daily effort on your part.
Most forms of passive income – like rental properties and starting a blog – can take a while to build up, but once they do, your property/blog earns you money even when you're not working on it.
Regardless of whether you are working or at the beach, you still make money with a passive income source.
But, wait!
Generating a passive income source is not as easy as it sounds, especially when you first get started. It requires a lot of time and energy upfront, but eventually, you may be able to set it on autopilot and only work for a few hours per week.
Many people have jobs that are active, meaning they only get paid for the hours they put in. Passive income doesn't require you to trade your time for money.
You Can Work For YOU
Bosses usually have an impact on whether or not someone feels good about what they are doing at their job day after day.
When earning passive income, you don't have to worry about working for anyone but yourself.
Many people find this to be the best part about earning money online. You don't have to answer to anyone nor will you have anyone hanging over your shoulder counting the minutes you were on a lunch break.
Work When You Want
There is no set schedule for earning passive income. In fact, you can be earning money while you sleep (once you get going).
If you have children that you would like to be more a part of their lives or be able to care for them when they are sick, you will be able to do this! You can make your own schedule and take vacations when you want.
You can even travel and work from anywhere in the world. As long as you have a wifi connection, you can work!
Enjoy Your Work
If you have ever had a job that you show up to strictly for the paycheck, then you know what it is like to not enjoy what you do.
When picking your own passive income direction, you can start to enjoy what you are doing every day. You will most likely learn a lot about yourself and your new job.
Not only can you do something you love, but you can also live anywhere while you do it! It will make your life much richer and more positive to get up every morning and look forward to what you do.
Set Your Own Goals and Priorities
Often times when we work at a desk job or for any company, we are told what to do and why to do it.
Our work is driven by company goals, which often don't align with our own life's goals or values. Essentially, we are working to make someone else happy or rich.
Earning money online means we can set our own goals and make certain parts of our job a priority.
You can outsource what you don't enjoy and do what you love.
Examples of How You Can Make Passive Income Online
There are many different ways you can make money online. Here are just a few ideas to get you started.
(Keep an open mind to all of these ideas. I never thought I'd make a living writing/blogging but I tried it out and I'm so glad I did…)
Blogging – Blogging requires a lot of effort in the setup phase, but once it's running along you have the luxury of being more hands-off. As long as you're willing to put in the WORK and are smart and consistent about the content you produce, you can grow a profitable blog. Starting a blog is a great way to make money with ads, affiliate marketing, and even selling your own products.
Affiliate marketing – By advertising other people's products, you can make money online. This can include pay-per-click marketing campaigns, promoting products through a blog or website, or recommending a product through user reviews. Almost every niche has affiliate products/services you can promote and make an income through.
Selling products – This is done through Amazon FBA or drop-shipping, which involves getting the product from a third-party and shipping to customers interested in the product. You don't have to have any physical inventory at your home/business and worry about shipping as Amazon (or your drop shipper) takes care of that themselves. You can focus on advertising and driving sales exclusively.
Creating an online course – If you know a lot about a topic and enjoy teaching people, you can make money by creating an online course that people are interested in and will pay for. No topic is too small. As long as it solves a problem, you can sell it. Creating an online course requires a lot of time upfront, but once it's done you can focus on marketing and just updating as needed. Online courses are very lucrative as they offer great margins and very little maintenance on the backend.
Writing a Kindle eBook – If you have a great idea that you want to share with the world, you can write about it and publish your own eBook on Amazon Kindle! The Amazon Kindle Direct Publishing platform is an easy way to get your e-book on Amazon as quickly as possible and start making some money!
So What Now?
Now that you have started learning about passive income, you need to know what it takes.
First, you have to pick what you would like to do while earning money online. Finding something you are strong and capable of doing will ensure you are successful.
Once you know what you would like to do, you'll need to set some goals, both long-term and short-term that will drive your success.
Planning out how you will accomplish those goals is also a must. Write down the steps you'll take to reach them. Go back and adjust as needed. You don't have to plan out the entire year but have a general roadmap you want to follow.
Learn as much about what you are going to do as you can. It won't hurt to find a mentor to learn from.
Having a support system that understands what you are going through will certainly help you be more successful. Don't be afraid to join communities (like facebook groups) and reach out to those that are doing the same things as you are.
Don't Forget…
Generating a passive income requires a lot of work upfront, but it is 100% possible to do.
You never know how good you are at something until you give it a go. Get your feet wet trying out different income streams.
Just remember to not get deterred if you aren't an overnight success. You're creating a sustainable, long-term business and that doesn't happen quickly.
Work consistently every day and be amazed at how far you can go
The great news is that there are so many ways you can passively earn income online! You have already taken the first steps to get started.
Don't forget to pin, like, and share!